Tax day dawned bright and warm which was a good thing since the Ploss clan was headed for a day in the big city.
We started with a lovely drive in and before you start complaining about the car vs the train thing…when you have a car with decent mileage and you have over two people it's actually cheaper to drive. We spent $57.50 in gas, tolls and parking and the train would have cost $65 with parking and tickets. As an aside, I think that maybe the answer to Manhattan's traffic problems should be offering Mass transit cheaper rather than making driving more expensive. But that's just me.
Anyway, after delightful drive in and parking down in Battery Park City (where we were meeting a friend for dinner later) we walked around a little then caught a cab uptown to Madame Tussaud's.

Tussaud's, Laura and I had been to the one in London back in 1993, was fun. We took pictures with folks, or sculptures thereof, ranging from Ted Turner to Will Smith. Sarah's favorites were the afore mentioned Will Smith, Pelé, 'NSYNC, The Don, Elvis, The Spice Girls and Steven Spielberg. Laura's included Paul Newman, The Rock, Hugh Grant and Janis Joplin.

I had a few as well. Besides Picasso there was Benny Hill, John Wayne, Casto and Arafat, Elle MacPherson, Salvador Dali, Ben Franklin, Lucille Ball, Jimmy Hendricks, Jerry Garcia, Matthew Broderick, Nathan Lane and Don King. It was great fun, not at all crowded but pretty expensive. They say you can take as many pictures as you like but the "hot" celebs, or rather the ones your kids are going to want their pictures taken with, are roped off and you have to pay to get the pictures taken by staff members.

Then it was off to South Street Seaport and my old stomping grounds. You see, about 15 years ago I was in the fish business and as such made several trips to Fulton Fish Market. Fulton was the place to buy wholesale seafood back in the day and being there again brought back memories. The city moved the market up to the Bronx but some of the old buildings are still there including Slavin's where we used to get all of our "flats" (sole, flounder).
After South Street Seaport, great views of the Brooklyn Bridge, Governors Island and the East River and a Crépe and some Ice Cream we took a stroll across town to The Esplanade, World Financial and Ground Zero.

Hooking up with long-time friend George Scheidewind at his condo in Battery Park City, we headed back up to World Financial and PJ Clarkes for dinner. We sat outside and had a great view of the sun going down over New Jersey. Dinner was great and the Wintergarden was beautiful at night.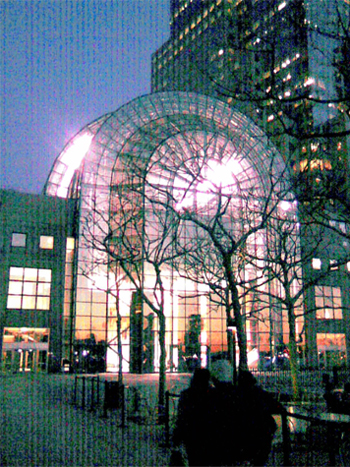 We walked back to George's, said our good byes and then got the car and headed home. A great family day.
Below are some other pix.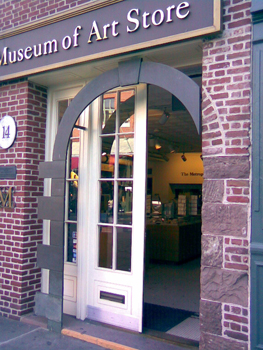 A cool doorway in Fulton Market.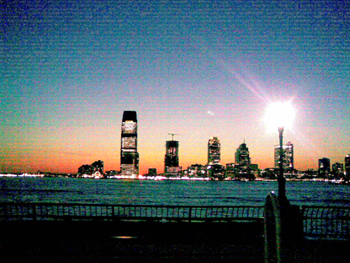 Another sunset shot from the Esplanade.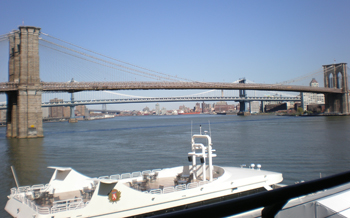 The Brooklyn Bridge.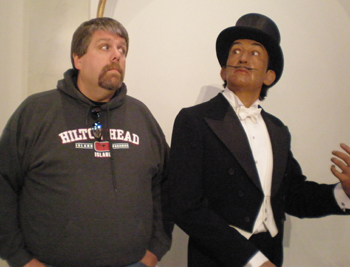 Salvador Dali in wax. Does anyone else see an irony here?