This is a reprint of a column I did in November 2004 for The Home Monthly.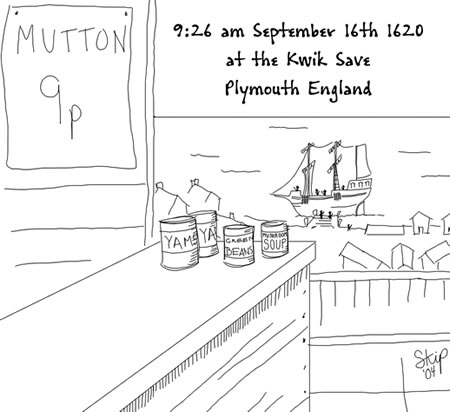 There seem few traditions in New England, indeed the whole country, more firmly cast in concrete than "one shall serve turkey at Thanksgiving." In fact as I recall autumns past, I can remember clearly being in groups of people pre-Thanksgiving when someone responds to the question "What are you having for Thanksgiving dinner?" with ham or roast beef, only to be looked at in the same way as would Ricky Ricardo, playing his conga drums in a U-boat rigged for silent running. It is called Turkey Day for a reason. So as we hurtle headlong towards that beloved holiday when we give thanks for everything up to this point in the year, allowing us to cleanse our thank you palate before we hit the big time in December (which makes Thanksgiving the pickled ginger to Christmas's sushi) … a few random turkey thoughts.
First, at Thanksgiving we celebrate the act of giving thanks. This was first done by a group of clueless Europeans who had decided to settle in Massachusetts in November 1620. Arriving in November and finding not only that they lacked non-porous housing but also that someone had left the canned yams, green beans, cream of mushroom soup, and French-fried onions at the checkout counter in the Plymouth Kwik Save, half of the Pilgrims (so named due to the fact that they were always in a bad mood and the outlook was not at all good) decided to spend the winter starving and/or freezing to death.
In the spring, Miles Standish casually mentioned to an Indian named Samoset who happened to wander into the settlement, "I say good fellow, we are like, starving." So the Indians (as they were known then due to the fact that the self same Europeans had initially thought North America was in fact, India), in one of the most stunning examples of hindsight being 20/20, offered to help.
The Wampanoags taught the ex-Europeans a thing or two about raising food and living off the new land so they could survive. In return, the Pilgrims threw a big feast and served wild turkey (the poultry), geese and ducks. As this was not only the first Thanksgiving but also the first pot-luck, the Wampanoags brought lobster, deer, clams, oysters and fish. Because both Mrs. Standish and Mrs. Samoset insisted that everyone also get a good helping of vegetables, the Pilgrims also served cucumbers, assorted root vegetables, corn and wild fruit.
After the feast, everyone sat back, unfastened their britches and loosened their deerskin pants. The Pilgrims weren't finished giving thanks so they threw the Wampanoags two other things, the diseases smallpox and diphtheria, which wiped out entire villages.
I can relate to the above historical text, for at Chez Ploss Thanksgiving is an almost joyous occasion and one that follows the Pilgrim traditions to the letter, except for the lack of Native Americans, venison, geese, ducks, lobster, clams, oysters, beets and turnips. Dinner is almost always turkey, semi-turkey or Turkey Verde.
Thanksgiving while growing up meant turkey, stuffing (both wet and dry), yams, green bean casserole, mashed potatoes, gravy, pumpkin pie and vanilla ice cream. Table condiments included gelatinous canned cranberry "sauce," black and green olives and really small pickles. When I got old enough, I was allowed to slice the canned cranberry sauce for serving. This involved cutting both ends of the can with the can opener, removing the bottom and using the lid to push the solid cylinder of cranberry goodness out the bottom, pausing every 1/4 inch or so to slice and place it on the serving dish. This was replaced in the late 1970s by the cranberry/orange blender relish, which seems to have invaded the American Thanksgiving table like the walking catfish has taken Florida.
Carving the November bird was always up to dad. He began sharpening his knife (real men don't use electrics) hours ahead of time. He was a master, a turkey surgeon as it were. When he passed away in 1975 it became my job, at 15 years old, to carve. It is a task I enjoy especially when I have good cutlery. The cutlery of choice right now is an Oxo Good Grips 12 inch slicer. It is not electric and not serrated in any form. It is a regular smooth blade knife, which is sharp enough to cut through browned turkey skin. As a rule I limit my intake of pre-dinner alcoholic party beverages so that I am able to handle the knife without having to make a trip to the emergency room of Norwalk Hospital.
I have been to Norwalk Hospital on Thanksgiving Day. I went when an unfortunate visiting member of the family slipped and fell on the way to the table (where my wife's first turkey was just being set), causing a three-inch gash to open up on his forehead. When we got there the waiting room was filled with guys who each had one hand wrapped in a dishtowel. They were all victims of dull knives and carving while under the influence.
So it has always been turkey. The semi-turkey mentioned above stems from a trip made several years ago to the Johnstown/Gloversville area of New York State. I was told we were going to have the culinary experience of a lifetime, Thanksgiving at a turkey farm restaurant. I imagined tables piled with turkeys, golden brown just waiting to be worshipped, farm fresh vegetables cooked to crispy perfection and homemade pies. All those years keeping up the Ploss family tradition were to be validated.
When we arrived at the restaurant there was a line. This was made up entirely of people in their Sunday Best, waiting their turn at the well of hope. As you have probably guessed, the food didn't (couldn't possibly) measure up to the family hype. The meal consisted of a small pile of a deli-sliced turkey-like product with mashed potatoes in canned gravy, canned corn and beans. Still, we were all together.
My first Turkey Verde was served at a friend's house about seven years ago. My friend, like myself, likes to take culinary risks once in a while. Sometimes this is good, like the Puree of Root Vegetable (potato, parsnip and carrot) Soup with Ham and Green Peas I served this evening or my roasted garlic mashed potatoes with Gorgonzola cheese. And sometimes not, like the Green Bell Pepper sauce for pasta I made, which turned my daughter off green sauces for several years due to the fact that both of her parents seemed to suffer some sort of gastro-intestinal "distress" after eating it.
It seems that my friend had an unhealthy obsession with cilantro at the time. When it came time to "herb" the stuffing, cilantro was the herb of choice and the stuffing was chock full of it. As the turkey cooked, the juices seeped into the cavity of the bird where they passed through the stuffing, which served as a Senor coffee filter for the cilantro and gathered in the bottom of the pan waiting to be sucked back up and poured back over the bird before being turned ultimately into gravy. They began to resemble the beer sold on St. Patrick's Day. Since my friend is also an accomplished baster, the turkey began to take on the look of the Irish as the cooking process progressed. When it was placed on the table it had the color of a new marshmallow shape for Lucky Charms.
One area where we at Plosshaus seem to have issue is stuffing. Again, I tend to be more "out and about" than the rest of my family. My wife Laura, who descends from a long line of MAPs (meat and potatoes) fanatics, tends to the more traditional side of things. This is the Arnold bagged stuffing camp. My daughter would go against tradition if she was allowed to but I don't see us having turkey stuffed with macaroni and cheese anytime real soon.
I, again, tend to hang out in the dangerous neighborhoods where seafood, non-traditional vegetables and spices from non-English speaking parts of the world infuse non-traditional breads with smells and textures that one can only dream about. One of my favorites was a stuffing made from Freihoffer's 12 grain bread, green pepper, celery, onion, blackening spices (now generically labeled Cajun in most mainstream stores) and crawfish tail meat. The recipe was "guess as you go." It was pronounced "good" but not for a traditional Thanksgiving dinner. I have tried oyster stuffing and stuffing made with shrimp and bay scallops. Still, for the majority of folks who show up for a Pilgrim repast, it's the tried and true all the way.
This is not to say that the folks (family and friends) I cook for are unadventurous. They will try almost anything. This has led to the new discoveries such as the root vegetable soup, the roasted garlic mashed potatoes with Gorgonzola, Beef Wellington with Brie, three species of mushrooms reduced in Madeira, smoked and poached salmon with capers, onions in a cream sauce, and grilled asparagus. It's just that holiday traditions are the toughest ones to buck.
I'll hold out hope for gradual change. If canned cranberry sauce can turn to cranberry orange relish, then mashed potatoes can become roasted garlic mashed potatoes with Gorgonzola. I, however, refuse to give up the green bean casserole. After all, it's a tradition.