I have been getting to work along-side my students in art classes this year. Both and that ability has allowed me to be creative in ways I had not thought possible. Thank you Mrs Brooks and Mrs Eyikan!
Here are two "pieces".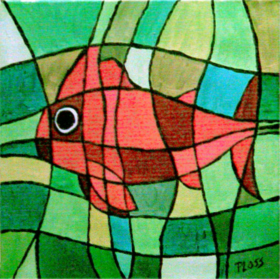 "Redfish1″ is destined for an auction in Fairfield on Saturday. Ir was requested by Mrs. Eyikan and is currently sitting while the varnish dries.
"Giraffe" is an abstracted piece done taking my scribble art a little further. It was given to Mrs. McGann.