So I spent most of this weekend really sick. The only downside to working in a building populated by little petri dishes on legs is that you seem to pick up your share of virulent diseases.On Saturday I had some family business in New Canaan and a return trip on Sunday to finish what I had started. Before returning home to Wilton I decided to take a little drive up Weed Street to the town's new Irwin Park. The park was recently donated and is located on the corner of Weed and Wahackme. It plays host to the Landis Gores Pavilion, or Irwin Pool House as it is known in most books on modern architecture.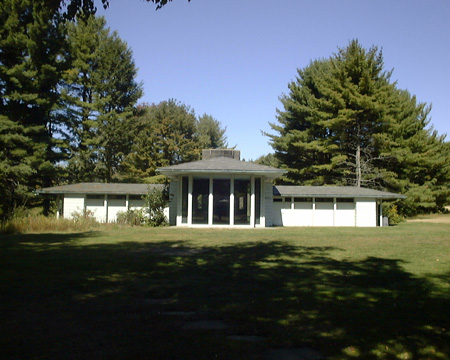 The Pavilion was designed by Landis Gores, one of "The Harvard Five", in 1960 for Jack and Jane Irwin. Jack was a lawyer and Jane was the daughter of T.J Watson, the founder of IBM. It is said that the unveiling of the pool house was done at a party where Gores, arriving late, had no idea that he was to be the guest of honor. Attendees included Philip Johnson, Marcel Breuer, I.M Pei, Eliot Noyes and other architects of note.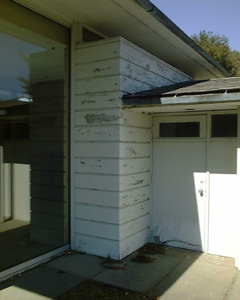 Unfortunately, the structure in in need of some love and attention. From what I've seen on the net, there is actually talk of tearing it down, one would assume, to make room for more soccer fields. It is over grown, has rot and rust and needs paint and TLC.
Fortunately there is a movement in New Canaan to keep it and fix it up as a sort of museum to the New Canaan moderns. The organization that is heading this up is The Friends of the Gores Pavilion and they can be contacted via the New Canaan Historical Society (http://www.nchistory.org). I have other pictures I will post later.
While there at Irwin Park I decided to take a short drive up Wahackme to Chichester which arguably has the largest concentration of architecturally significant mid-century moderns in the entire town.
I saw that one of of Hugh Smallen's houses is under the painter's brush and it looks great.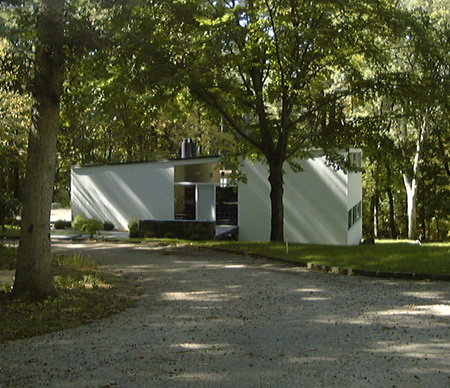 Also on Chichester I saw that John Black Lee's "Lee House 2″ is undergoing what looks to be a major renovation. I was under the impression that architect Toshiko Mori had already completed an extensive renovation a couple years ago which included raising the clerestory.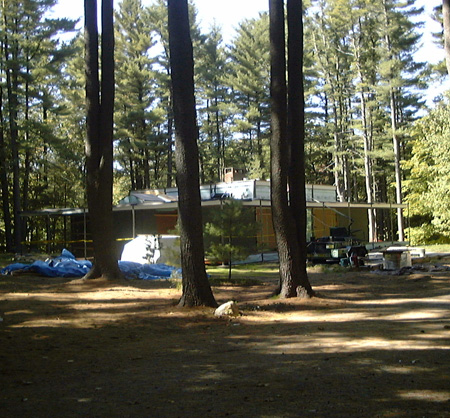 So, fresh from seeing these amazing examples of mid-century architecture I went looking for more. During my travels around town I found Philip Johnson's Wiley House and another one he did in wood which is also undergoing a renovation. More later.