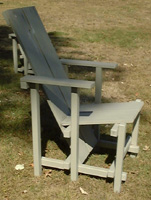 So as I have detailed in a previous post, I spent some time walking around the Landis Gores Pavilion a weekend or two ago.
While there I saw these lawn chairs. I think they are really simple, elegant and very cool. There are a whole bunch of them scattered around the great front lawn of Irwin Park in New Canaan. There are even smaller ones for the kids.
I think I figured out where I've seen them before.
In going through the October 2007 issue of Dwell Magazine, one of my favorites, I came across and article about Bertus Mulder, who they proclaim is "one of the last surviving links to the glory days of the Dutch avant-guard", I came across the picture below which I think wraps it up. It is Rietveld's "Red and Blue Chair" designed in 1917. It is available from Cassina.