About Skip
Skip is a an educator, author/illustrator, artist, graphic designer, some time columnist, web developer, director and actor.
His graphic design history goes back to 1969 when his teacher, Mrs Downing, pointed out to him that his drawing of two unnamed dinosaurs in a primordial swamp was "a good one".
"The kids and staff
in the school where 
I work provide 
inspiration each 
and every day".
During school Skip would "take notes" by drawing. This lead to the famous "Bannerman Incident" of 1975 when he was asked to stay after school for his reckless doodling by his Ancient History teacher, Ms. Bannerman. When he was able to show the teacher how the pictures related directly to the subjects discussed in that day's class he was allowed to continue. Upon graduation he presented her with a 25' x 8.5" panorama of the American Civil War done with turtles.
It is true that he purchased his first computer, a Commodore Amiga 1000, because it had more colors (4096) than anything else he could afford at the time. The printer, a Xerox Diablo C150, cost as much as the computer.
In 1995 Skip was hired to draw "cartoonish" elements for a new website. He was then "given the opportunity" to learn the coding behind the webpage (ok, he was thrown an HTML book and a brochure and asked to translate the brochure to this web page). He was unique in that he was not a programmer but an artist who learned programming. Soon he had a department of 10 artist/programmers. The company folded but he has kept designing ever since.
Skip's love of writing, fostered by the late Symour "Sigh" Schneid a former editor for Argossy and Science Fiction Magazines has been partially satisfied first by The Hersam Acorn Press who gave him a column in their "The Home Monthly" which is delivered to households in eight Fairfield County Connecticut and Westchester County New York towns. The column, called "And Another Thing..." was where he was allowed to "play". Now that creative outlet is satisfied by his maintaining several blogs on modern architecture, children's books and technology in schools.
His teaching life began when a former instructor of his asked him to return to the Fairfield University School of Continuing Education to help in the development of a web technology curriculum for their Computer Design Institute. He did and became an instructor there, teaching until 2002.
Skip began working as a substitute in the local school system in the spring of 1995. He joined the staff of a local k-2 school as a special education instructional aide in the fall of 2005. He enjoys working with kids and it is this work that inspired him to write his first two children's books in 2006. "If Picasso Were a Fish" was released in March and "If I Had a Gift" was released in June. Since then he has published a total of five books for kids. Skip is currently working on four new books.
Then & Now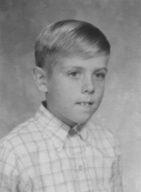 Skip in a school picture taken at Weaver Elementary, Los Alamitos Ca. c.1968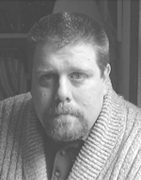 Skip now, trying to look like an author (note the sweater).
His theatre involvement includes acting, directing, producing, writing, set design and management. His directing credentials include;
Arsenic and Old Lace (Wilton Playshop)
Guys and Dolls (Wilton Student Summer Playshop)
1776 (Wilton Playshop)
How to Succeed in Business Without Really Trying (Wilton Student Summer Playshop)
My Big Fat Italian Feast (he wrote it as well)
Wasp on this Island (which he also wrote)
Camping with Henry and Tom (A play reading at The Wilton Playshop)
Wenceslas Square (directed at Wilton High)
The Nerd (Wilton Playshop)
The Foreigner (Westport Community Theater)
Candida (Town Players of New Canaan)
High School Musical (Wilton Children's Theater)
Willy Wonka (Wilton Children's Theater)
The Hound of the Baskervilles (Westport Community Theater)
Annie (Wilton Children's Theater)
Bye Bye Birdie (Wilton Children's Theater)
Jungle Book Jr. (Wilton Children's Theater Summerstage Jr.)
Mr. Smith and the Preamble (Startford Arts Festival)
Mulan Jr. (Wilton Children's Theater)
101 Dalmatians (Wilton Children's Theater Summerstage Jr.)
Beauty and the Beast Jr. (Wilton Children's Theater)
Disney's Little Mermaid (Wilton Children's Theater)
Alladin Jr. (Wilton Children's Theater Summerstage Jr.)
Shrek! The Musical (Wilton Children's Theater)
Set designs include;
Arsenic and Old Lace
1776
The Perfect Party
Deathtrap
The Secret Garden
The Sweet Bye N Bye
Wenceslas Square
High School Musical
Candida
While to many, the wide spread of interests that I have could seem distracting or proof that I suffer possibly from ADD but I see it differently.
I enjoy variety in the projects I do from website design to script writing and directing. Cross pollination between disciplines feeds creativity and keeps you thinking...well....differently..

By having such a wide range of creating interests I am able to create using many different styles and techniques.